Hardy Begonias
These wonderful plants are really not well known. It is not unusual when I mention hardy Begonias to a customer to get that 'Is he mad' look. However there are a large group of these subtle plants that are either totally hardy or on the fringe. Some, but by no means all,  may need a mulch in the worst of the winter weather, but they are certainly worth the extra effort.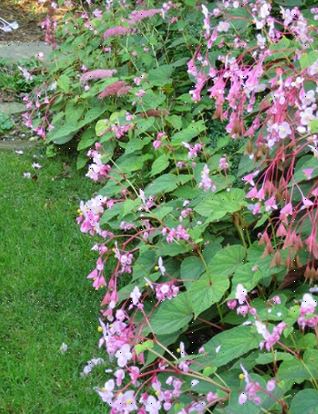 Begonia grandis subsp, evansiana.
The hardiest of them all are the B. grandis types. We currently have several different ones, namely
B. grandis 'Herons Pirouette'
B. grandis subsp. holostyla 'Nanjiang Silver'
B. grandis 'Sapporo'
B. grandis pale green leaf form
B. grandis subsp. evansiana 'Simsii'
B. grandis subsp. evansiana
B. grandis subsp. sinensis 'Red Undies'
B. grandis subsp. sinensis 'Snowpop'
B. grandis subsp. sinensis BWJ8011A
B. grandis subsp. sinensis BWJ8133
The B. grandis forms can be absolutely spectacular (see photo above). They are totally hardy, dying down in the winter to a small corm. Ours even came through the 2011 winter where we had -20 degrees for six weeks. They are invaluable for late summer and autumn colour, starting to flower in July and continuing until the first real frost. Colours, shape and sizes vary considerably. Many have wonderfully dark veins on the undersides of the leaves, some totally burgundy below. Others have silver spotting on the young leaves. This adds extra value to what is already a good plant. Flower colours are either pink or white, the whites are especially good for lightening a dark area.
There's a lovely article here from Brooklyn Botanic Garden.
Also an amazing piece here
Begonia 'Herons Pirouette'
This year we have  added  a couple of stunners. 'Herons Pirouette' is very special. Whilst many of the 'grandis' types are similar this one really stands out. It is a beast! Not only is it totally hardy it has the most spectacular flower trusses during the late summer and autumn months. What makes this so special is the pendulous appearance of the flowers, each held on an immensely long petiole. Giving  the effect of a cascading pink waterfall.
I have read of it described as 'masses of deep pink, nearly 12 in. long flower clusters, pirouetting with a dancer's grace'. And  'a pink, green, and red Japanese porcelain' -  Both are equally true. Add to this spectacular seed pods and you have it all. Great for adding to the Hosta bed, coming into its own as the Hostas fade.
When Dan Hinkley discovered this on his trip to Japan in 1997 he did the gardening world an immense favour.