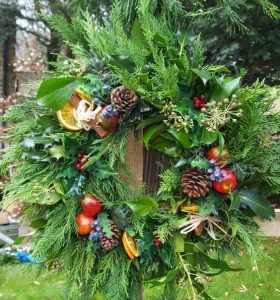 If you need a Christmas Wreath then look no further! Our wreaths are freshly made and can be either selected from our ready made range or we can tailor make them to your own designs.
As we make lots of them, the ready made ones may vary considerably from the pictures, so if your requirements are very specific please ring on 01559 363389 for a chat first. We can do most combinations.
More details here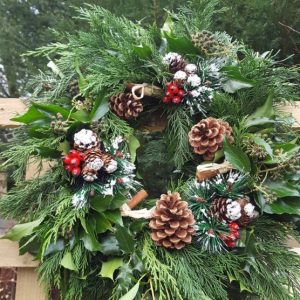 All are available from the 1st to the 23rd of December and can be either picked up from the nursery itself or any of our other outlets, the shop or our market stall. Please bear in mind that for mail order we send next day delivery but as Christmas draws near we can't guarantee delivery very near to the day!
They are  made from a combination of fresh holly, conifer and Ivy. All decorated with a selection of picks, cinnamon sticks, pine cones, ribbons and statice in various combinations depending upon size and price.
There are three sizes, Small, Medium or Large
For ordering details go here